If you are anything like me, this time of year is a very sad time, as this past weekend marked the close of almost all the duck seasons across the nation. Some states still have dark goose seasons running until the first week of February, but as the season winds down you don't have to worry about hanging up your lanyard just yet!
Some of the best goose hunting of the year is quickly approaching, and it comes in the form of the Light Goose Conversation Order (LGCO) season, more commonly known as the Spring Snow Goose Season. For those who are unfamiliar, the Spring Snow Goose season is a nuisance season for light geese (includes Snows, Blues and Ross' geese), and exists for the sole purpose of trying to curb the massive population of these geese, which are literally eating themselves out of their tundra nesting grounds. The LGCO is a very liberal season, allowing for unplugged shotguns, electronic callers and no bag or possession limits, all in hopes that hunters will take as many of these birds as possible to keep the population in check.
There are many methods hunters will use in attempt to take snow geese; pass-shooting, jumping and even stalking using plywood cow decoys to name a few, but the best way to put big numbers down, like always, is to decoy them.
Decoying snow geese can be a tricky ordeal, as everything you do is multiplied and magnified. Instead of flocks of 2-300 birds, it is not uncommon to have flocks of 2-3000 (and larger!), which is just that many more eyes to pick apart your spread. The way to combat such a large number of birds, is with an equally large number of decoys. If you can afford/store/haul enough full bodies to do the job, more power to you, but by far the most economical way to build a successful (and transportable) spread is with a sock-style decoy, such as the Tanglefree Slammer Socks. Most sock-style decoys can be purchased in small or large quantities, in Tanglefree's case: dozen or 4 dozen. The advantage of the sock-style decoys is that they are much cheaper than their full-body brethren (usually $50-75/dozen vs. $300 or more for full body) not to mention they are much easier to store, as you can usually fit about 10 dozen socks in a large storage tote.
When purchasing your decoys, you should consider what area of the country you will be hunting. The Midwest (Central and Mississippi Flyways) will see a much larger portion of Blue Geese than either of the Coasts. If you plan on hunting the Midwest, a good rule of thumb is to have about a 50/50 mixture of Snows and Blues, perhaps leaning a little heavier on the snows. Those who are hunting the coasts should have a spread of almost entirely Snows, with just a few Blues mixed in.
If you have ever watched a large flock of Snow Geese feeding, you will notice that they are almost never all sitting still, and quite frequently "jump" each other towards the head of the spread (where all the untouched food is). This means that you should invest in some sort of flyer, such as the Edge Snow Goose Magnet, to simulate geese jumping and trading for new food. There really is no such thing as too many flyers, as they give the illusion of a very active feed, and will help draw attention away from your hide.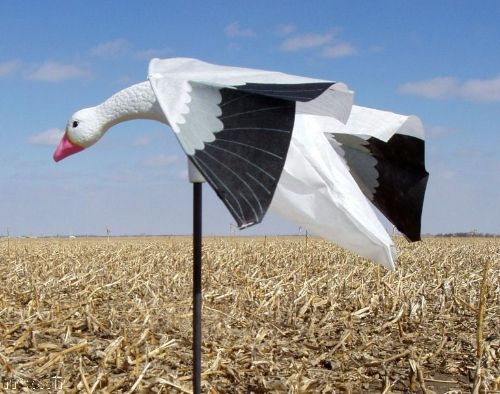 To fully appreciate all the benefits of the LGCO, one should also consider (although they are not necessary to be successful) a magazine extension (if your gun will accept one) and an electronic caller. If you were already thinking about purchasing an electronic caller for your winter predator hunting, consider upgrading to one of the more high-output models such as the FoxPro Shockwave or Prairie Blaster, as Snow Geese are very loud birds and you will want to make as much noise as possible to simulate the real thing. If you already have an electronic predator caller, it will likely work just fine, as most of them have downloadable sounds, you will just likely need more of them, as the lower-output 1 and 2 speaker models simply won't put off as much noise.
This spring and summer saw a record hatch of light geese, so juvenile geese will be plentiful and ripe for the picking. Spring Snow Goose hunting can be a lot of work, but when it pays off, it pays off big, and there really is nothing quite like a tornado of geese circling mere yards above your head. So don't put your shotgun to the back of the safe just yet, some of the best hunting of the year is just weeks away!